County Highway Department
Massac County Highway Department is a County Unit Road District.  A Unit Road District is a combination of the County Highway system and the Township Highway System.  The County Engineer is responsible, subject to the direction of the county board, for the construction, maintenance, and repair of all roads in the county for which the Township Highway Commissioners had previously been responsible, along with county-maintained roads.
The Highway Department maintains 68 miles of County roads, along with 321 miles of Township roads. Township roads include 200 Miles of oil and chip-maintained roads and 121 miles of gravel roads.  They are working on a plan to convert many of the more frequently traveled gravel roads, to oil and chip as funding allows.
The Highway Department maintains 90 bridges and hundreds of culverts.  Maintained culverts include large concrete and metal culverts carrying waterways under county-maintained roads, as well as driveway culverts adjacent to county-maintained roads.  They also install new driveway culverts at the cost of materials, for access off county-maintained roads.
The Highway Department also maintains signs, guardrails, county vehicles and equipment. They mow rights-of-way, perform essential tree trimming, tree removal, and storm clean-up operations.  They also issue permits for construction and maintenance of utilities within the county right-of-way, as well as for overweight/oversized vehicle travel.
Apart from major road, bridge, and culvert projects, all work is performed by the Massac County Highway Department team.
Massac County Engineer— Amy Ferris
2736 North Avenue, 
Metropolis, IL 62960
2023 Construction Updates
Waldo Church Road Bridge Replacement
In May 2023, the Waldo Church Road (TR 121) Bridge over an unnamed tributary to Fourmile Creek approx. 1/3 mile east of IL 145, was replaced at a cost of just over $265,000.  The Township Bridge Program (TBP) Fund covered 80% of the cost and the remaining 20% was paid for from the County's Highway Bridge Fund.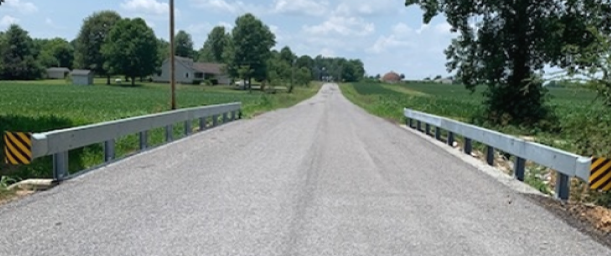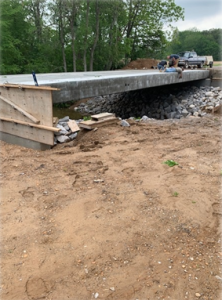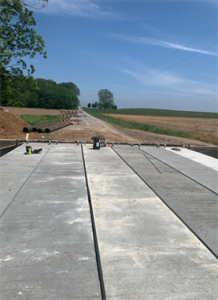 Joppa Road, Joppa North Avenue, & Portland Road Resurfacing Project
In May/June 2023, the County resurfaced portions of County Highway 5 (Joppa Road, Joppa North Avenue, Portland Road) from the East Village Limits of Joppa to the intersection with Grand Chain Road.
The final cost of the improvement was approximately $572,000, including $237,000 in funding from the Truck Access Route Program (TARP), and the remaining portion from the Federal Surface Transportation Program (STP) allocation for Massac County.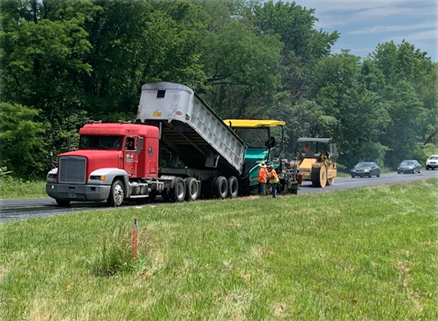 Country Club Road Bridge Replacement (over CN railroad)
In May 2023, the County began replacing the Country Club Road Bridge over CN railroad, between Airport Road and North Avenue.  This project includes the construction of a new 3-span concrete structure to replace the previous timber bridge.  The Construction contract was awarded to Samron Midwest Contracting for just over $1.5M.   The County will be reimbursed for 80% up to $1.2 M in funding from the Illinois Grade Crossing Protection Fund (GCPF) and the remainder of the cost will be paid for from the County's Federal Aid Matching Fund.
Unionville Road & New Columbia Road Guardrail Project
In August 2023, the County began construction of the Unionville Road & New Columbia Road Guardrail Project.  This project includes the replacement of guardrail on New Columbia Road, just north of Big Bay Road, and installation of new guardrail on Unionville Road
2023 Oil & Chip Conversions
In 2019, The County began receiving additional allotments from the State, created by increased motor fuel taxes.  In 2020, the Highway Department decided to use a portion of these funds to convert existing aggregate roads to oil and chip.  The conversions to date include:
2020
Upper Salem – east of George May – 2,220 ft (0.42 mile)
Staton Ridge – north of Mick English and south of Macedonia Church – 3,750 ft (0.71 mile)
Benton Road – east of I-24 and west of Hickory Hill – 900 ft (0.17 mile)
2021
Grinnell – from Brentwood to the east – 1,550 ft (0.29 mile)
Walnut Ridge – just north of New Columbia to the north – 2,025 ft (0.38 mile)
Marion – just east of Old Marion to the east – 2,000 ft (0.38 mile)
Holtkamp – just west of Crestwood to the west – 1,650 (0.31 mile)
Bert Medley – just north of Unity School to the north – 2,400 (0.45 mile)
2022
Mt Pleasant – on hill just south of Phillips Road – 1,400 ft (0.27 mile)
Midway – just south of IL 145 to Shady Grove Road – 2,650 ft (0.50 mile)
2023
Walnut Ridge – near Samoth – 3,800 ft (0.72mile)
Orchard – north of Westermann's to the bridge south of Schneider – 1,065 ft (0.20 mile)
Waldo Church – from Church to Henderson – 2,670 ft (0.51 mile)
Henderson – from Waldo Church north to exist. oil & chip – 2,730 feet (0.52 mile)
Old Karnak – from Wilke's to just past Myrick – 2,900 feet (0.55 mile)
Kommer – upper end from exist. Oil & chip to Pope Co. – 7,128 feet (1.35 mile)
County Crews began working on oil and chip repair in Mid-July, shortly after completing the conversions.  This year, crews began on the Northwest side and are working their way to the Southeast.  Repairs will continue until they reach the other end of the County, or materials run out. Next year, crews will begin at the opposite end of the County.
Complaint Log / Request for Work